Je kan het boek 'Het Meisje dat Haar Land Verloor' hier downloaden als PDF. Interesse in het hebben van een eigen kopie van het boek voor jezelf of als cadeau voor een ander? Bezoek dan onze webshop.
Het Meisje dat Haar Land Verloor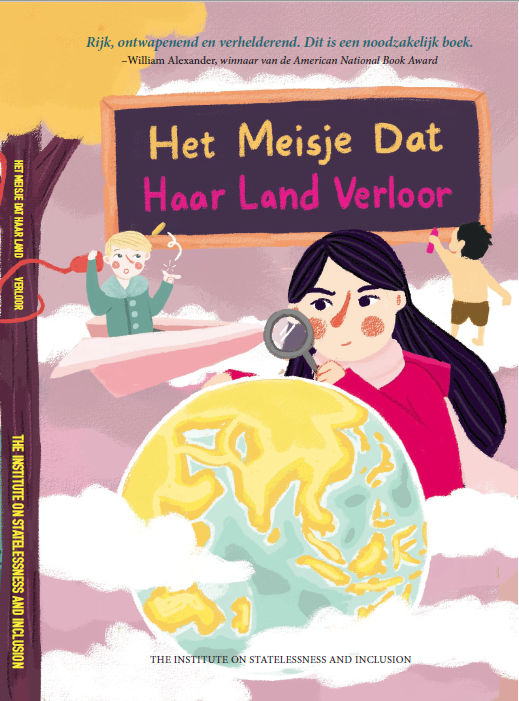 "Ik krijg er buikpijn van als ik eraan denk, maar ik denk dat ik een staatloos persoon ben. Ik vraag me af of mijn geboorte geregistreerd is. Ik vraag me ook af of geboorteregistratie alleen voldoende is om te bewijzen waar ik hoor. Ik doorloop het mij nu vertrouwde muntenritueel en schud de portemonnee voordat ik een munt uitkies. Ik vraag me af waar ik nu weer naartoe word gebracht."
Sluit je aan bij Neha terwijl ze de wereld rondreist in een verbazingwekkend avontuur vol ontdekkingen waarin ze nieuwe landen bezoekt, nieuwe vrienden maakt, leert over staatloosheid en ondertussen de stukjes rondom de puzzel van haar eigen nationaliteit samenvoegt.
'Het Meisje dat Haar Land Verloor' is een boek geproduceerd door het Institute on Statelessness and Inclusion. Een onafhankelijke organisatie waar wij werken zodat iedereen een nationaliteit kan hebben. 
Verdere aanvullende materialen bij het boek zijn beschikbaar op deze website, www.kids.worldsstateless.org. De materialen zijn momenteel alleen beschikbaar in het Engels. 
Files and links


related to this resource

Het Meisje dat Haar Land Verloor (11980.84KB)

Download